The Agile Project Kick-off Kit
By Nick Butler
Tags: Agile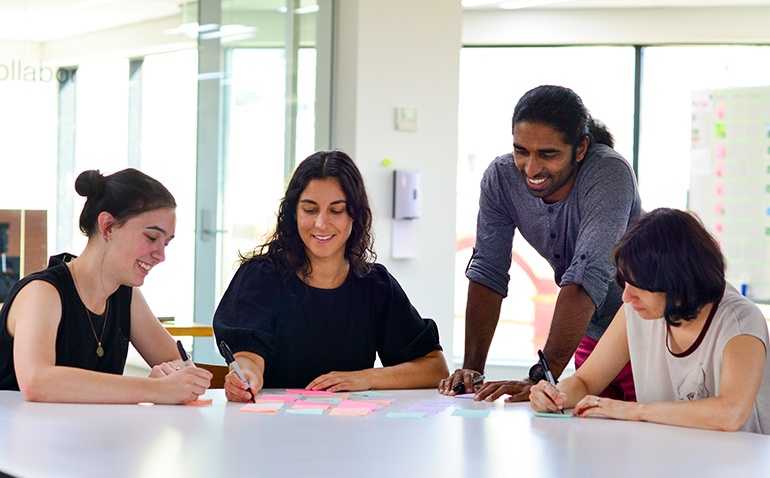 Fast, fun and fiercely focused on your customers' priorities; in Agile you kick off a project the way you plan to carry on.
---
Get the Agile Project Kick-off Kit as a handy 39-page PDF. Based on this blog post series, it's been revised and expanded, giving you the tools you need to get your project off to a successful start.
---
Is your internal team about to start an Agile project? Maybe you wonder what to expect when you start working with an Agile development company? Find out how a Project Kick-off workshop can set you on course to deliver a product your customers will love to use.
About the Kick-off Kit
This post is the first in a series detailing tools and templates you can use for a Project Kick-off. In later posts we run through an example agenda showing how and why we use these tools and templates (and look at other options worth considering). The kit covers the approaches that work for us; you'll be able to experiment and find what works for you.
Sample Project Kick-off agenda
Vision presentation
Press release
Elevator pitch
Success sliders
Personas
Story mapping
Prioritising
Story writing
Team charter
It's just a sample because different projects need different agendas. Bigger projects are likely to require longer and more involved Kick-offs for example, or, if the team hasn't worked together before, you might spend more time on icebreaker exercises. And, because continuous improvement is at the heart of Agile, we're always trying out new tools and techniques.
The purpose of the Project Kick-off
An Agile Project Kick-off is designed to:
build a shared understanding of the Project Vision: what you'll deliver for your organisation and your customers
bond the team as a collaborative unit aligned behind the Vision
ruthlessly prioritise only those elements that will deliver these outcomes
let you set expectations about what will be delivered within your organisation
do all this quickly with a view to delivering a working product as soon as possible.
It's often the first time people have met so it's a chance to get to know each other. Everyone has input and works together to give the project the soundest foundation possible.
Who comes to the kick-off?
The guest list is all about combining your organisation's customer insights with the technical expertise of the development team. You'll want:
the Product Owner
stakeholders who understand the customers
some real live customers if possible
the team (everyone needed to do the work and no-one who isn't)
the facilitator (often an Agile Coach or Scrum master)
Like the Product Owner, the stakeholders from your organisation should have a really good idea about what your customers are going to want from the product and what problems you're trying to solve.
This means the best candidates are often people who regularly deal with customers, like your call centre, help desk, front of house or sales mavens. These people are also most likely to be able to recruit actual customers to come along. User research or analytics experts are also good candidates. If you can get diverse bunch, all the better. The Kick-off makes use of the Wisdom of Crowds and the wisest crowds are often the most diverse. Most importantly, whoever attends needs to be engaged, open to all ideas and ready to contribute.
You'll also want to make sure the whole team has a shared understanding of Agile.
Product owner brings the vision
For the Product Owner, the most important prep is getting ready to present the Product Vision: how the product helps deliver your organisations' strategic goals, and how it helps your customers, now and in the future. How does the product enhance your digital relationships with your customers?
The team will ask questions and this starts the conversation that will continue throughout the project. The importance of the Vision to the Kick-off underlines the level of involvement a successful product owner will have with the project and it's a good prompt for you to clear your calendar for the daily 15 minute standups you'll be having once the project starts.
You might like to check out Roman Pichler's tips for coming up with a vision.
What's in a name?
You might also see the Project Kick-off called things like Project Discovery, Project Initiation and Project Inception. We go with Kick-off because Discovery seems too narrow, Initiation too reminiscent of painful rites of passage and, ever since the movie came out, Inception too synonymous with turning your brain to spaghetti.
We also like the way Kick-off conjures up the pleasures and rewards of team sport. "Project kick-offs are exciting things to be part of," says our Agile Lead Gavin, "they're lots of fun."
The Kick-off Kit
Introduction to the Agile Project Kick-off Kit
---
Get the Agile Project Kick-off Kit as a handy 39-page PDF. Based on this blog post series, it's been revised and expanded, giving you the tools you need to get your project off to a successful start.
---
Want help running your project kick-off?
If you're based in New Zealand, Boost can plan and facilitate your workshop for you. It's a great way to get clear what you want to achieve, how long this will take and how much it will cost.
Learn how the project discovery experts can take the hassle out of building your business case and getting your project up and running.
How we can help you plan, size and cost your project
Further reading
Watch The Board episode on Project Kick-offs.
Read about the Kickoff for our Scrummaker project.
Find out about product discovery in Scrum.
Learn about working with stakeholders in Scrum.
Check out how to prototype ideas before or after Kick-offs with the Google Sprint.
Agile training
In New Zealand and keen to train with the team who put together the Kick-off kit? Learn more about our Agile training:
Agile Professional Foundation certification, Wellington, NZ – two-day ICAgile course
Introduction to Agile methodology, Wellington, NZ – free two-hour workshop
Agile Accelerator team assessment – Agile review and action plan