Free Agile training: Help your charity have a positive lasting impact
By Nick Butler
26 August 2019
Tags: Agile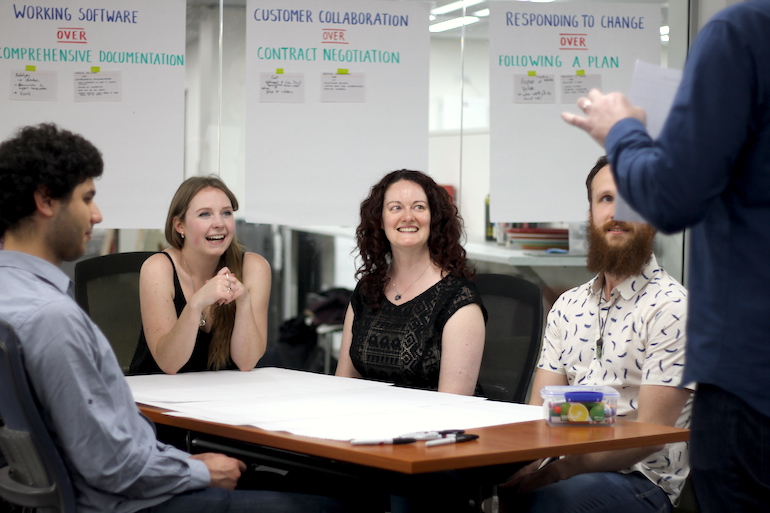 Does your work deliver a positive and lasting impact? If so, your charity could get up to four free seats on our Agile Professional Foundation course. You'll learn how the Agile way of working can help you consistently deliver more value to your clients — and to the country as a whole.
Boost's purpose is supporting others to create a positive and lasting impact. One of the ways we can do that is to share our Agile expertise with charities and other purpose-led organisations.
You don't need to be software developers to benefit from being Agile. And Agile is ideal for charities because it helps you get the most from tight resources.
Learn how to deliver more value, faster
Inspiring and energising, our ICAgile-certified course will give you the practical tools and support you need to make New Zealand a better place.
Learn how and why Agile lets you deliver more value, faster.
Get a comprehensive introduction to the Agile values and principles.
Discover practical Agile tools and techniques.
Complete engaging exercises that show how Agile works in practice.
Learn Agile the Agile way:
Learn from working Agile professionals who use the tools every day.
Join us in our Agile studio and see how Agile projects work in the real world.
Bring your questions and we'll answer with examples from our own Agile projects.
Learn more about the Agile Professional Foundation
Who is eligible
The offer is open to charities that make a positive and lasting impact. If you're not sure if you're eligible, email Sean to check.
You'll need at least two people keen to attend. This ensures you can get the benefit of bouncing ideas off each other — both during the course and when you get back to work.
How to apply
Email Sean and he'll get back to you to learn more about your organisation and the positive and lasting impact you aim to deliver.
Places are limited so get in quick.
---
---
Where and when
The APF is an interactive virtual course that you complete from your desk via Zoom. Tailored for remote learning, the course is delivered over four consecutive mornings.
Our next APF runs from:
Monday 15 – Thursday 18 February
9.00AM – NOON
Why we are offering this
Our purpose as a company is:
Supporting others to create a positive and lasting impact.
One of the ways we do this is by donating to charities. Along with donating money, we can also donate our time and share our expertise. In fact, doing this can make a bigger difference because it will deliver benefits long-term. The benefits snowball as the charities we help are able to deliver ever-increasing value to their clients.
Email [email protected] today to learn more about how we can help you have a positive and lasting impact.
Learn more
Boost's purpose — and how to discover your own