Award for 'the best place to work in New Zealand'
By Nick Butler
Tags: Other
Boost is hugely proud to have won the Team Gold Award at the 2019 Wellington Gold Awards. The award recognises the groundbreaking initiatives we've introduced in our mission to make Boost the best place to work in New Zealand.
We thought the easiest way to describe what makes Boost different is to share our entry to the awards.
Building the best place to work in New Zealand
Boost is a purpose-led software development and Agile consulting company. Eighteen years in the industry, we currently have 25 staff.
Our goal is to make Boost the best place to work in New Zealand. We do this by empowering our team to help our clients make a bigger impact.
As a result, this year we:
achieved our highest Team Happiness scores ever
embedded the Ideal Team Players model to support our continued growth
were certified as the only WorldBlu freedom-centred workplace in Oceania
won a WorldBlu Best Practice award.
Purpose produces happiness
At Boost we have a single, explicit business purpose:
Supporting others to create a positive and lasting impact
Developed collaboratively with the team, this purpose defines the work we do. We only choose projects that will have a positive and lasting impact. Again, this is a team decision.
Having this explicit purpose drives both happiness and productivity. That's because research shows that doing things that help others tends to make people happier. And because the team only work on projects that excite them, they bring passion and energy to the work they do.
We know happiness is increasing because we track it. We use TinyPulse to build and measure team engagement, including a regular happiness survey: each month we ask everyone "How happy are you at work?". To keep ourselves honest, we automatically display the running average of our past four surveys on our website.
Team happiness is high and getting higher. For example, our average team scores regularly crack 9 out of 10, compared to an industry benchmark of 7.6. Currently, the running average is 9.2.
Empowering the whole team
In order to achieve WorldBlu certification as a freedom-centred democratic workplace, our staff do an anonymous survey assessing how well we follow the 10 principles of organisational democracy.
These are:
Purpose and vision
Transparency
Dialogue and listening
Fairness and dignity
Accountability
Individual and collective
Choice
Integrity
Decentralisation
Reflection and evaluation
To create a freedom-centred workplace, we need to empower the team. So we do this by:
devolving decision-making
using supporting lines, not reporting lines
maintaining sustainable productivity through Scrum
implementing self-selecting teams.
Devolving decision-making
At Boost, decisions are made by those closest to the problem.
Specifically, we use the Decision Tree to guide decisions. We break them down into Leaf, Branch, Trunk and Root decisions, based on the increasing impact of the decision. For instance, picking a leaf is low impact, while cutting a root is high impact. So, the greater the likely impact to the company, the more the decision needs to be discussed. Anyone can make Leaf decisions without discussion. As an example, the work credit card sits by the phone so anyone can buy anything they need to do their job without having to check first.
Using supporting lines, not reporting lines
Everyone at Boost has a coach to support them, not a manager to report to.
With devolved decision-making comes a new role for the leadership team. At Boost, this team is known as the Navigators. The Navigators guide us along the course we've charted as a team. The Navigators are servant leaders; their role is to ensure that everyone is able to do the best work that they possibly can.
Maintaining sustainable productivity through Scrum
Our Scrum teams decide themselves how much work to bring into each iteration or Sprint. We use pair-programming and a culture of collaboration and transparency to ensure teams are cross-functional, avoiding the pressure that falls on individuals when they are the only expert in a particular area.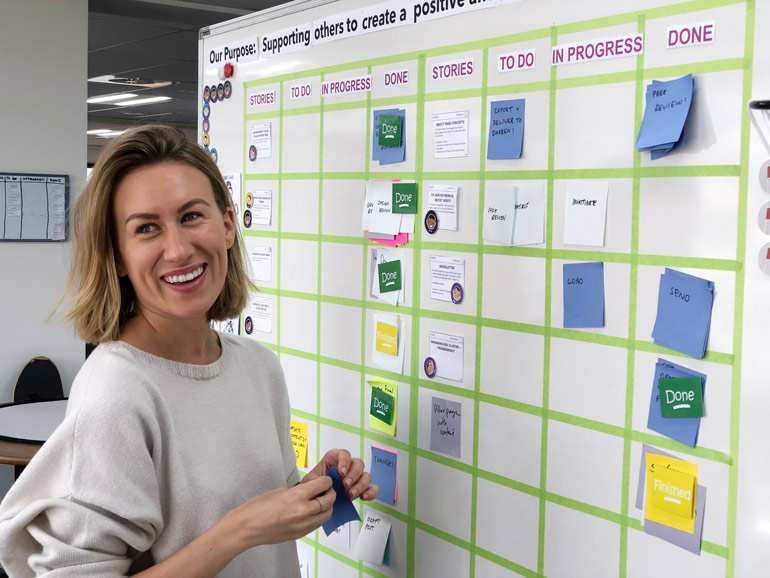 Implementing self-selecting teams
Boosters get to choose which projects they work on. They also choose their one-on-one coach.
Employee-centred career development
Professional development at Boost starts with what each employee needs.
We achieve this through:
one-on-one coaching
dual-scope career paths
fortnightly research and development days.
One-on-one coaching
Every staff member has a fortnightly one-on-one growth and empowerment session with their coach. These One-on-ones are:
regular
structured
employee-centred
two-way channels for feedback
designed to ensure follow-up actions take place.
They give Boosters the chance to:
drive their own professional and personal development
discuss ideas, opportunities and goals
share any concerns or issues in a safe space
give and receive feedback
celebrate successes.
In November we won a WorldBlu Best Practice Award for the Culture Poster initiative. This initiative was introduced to drive and track development in our One-on-ones.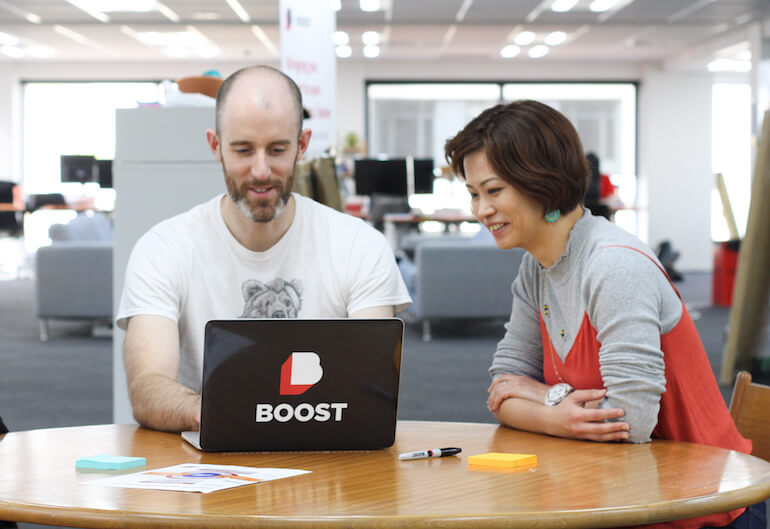 Dual-scope career paths
We don't have hierarchical job titles at Boost.
To help the team grow and learn we have replaced the standard software industry career path. Instead of Junior, Intermediate and Senior, we have Apprentice, Journeyman and Master. These recognise that, for Boosters, developing soft skills is as important as building technical skills.
Fortnightly research and development days
To build new capabilities and opportunities, every second Friday is devoted to R&D. Boosters pitch the projects they want to work on based on the benefit it will deliver. This benefit might be to the individual, Boost or our clients.
Happy and healthy team
The happier your team is, the healthier they are. And vice versa. Moreover, one of the reasons our happiness is increasing is that Boost's CEO has an explicit goal of making Boost the happiest workplace in New Zealand.
Other ways we ensure the wellbeing of the Boost crew include:
discouraging overtime
doubling the sick leave allowance in the past year
providing access to counselling if needed
providing ping pong, foosball and yoga to help get the heart pumping
having a collaboratively-developed Team Charter that sets the ground rules for how we all work together
using the TinyPulse "Cheers for Peers" to prompt us to recognise our colleagues' contributions
valuing manaakitanga and treating visitors and customers as part of the family.
Sharing success
At Boost, we win and lose as a team. Success is recognised and celebrated together.
We lock this in through:
profit sharing
love languages
party time.
Profit sharing
Each month we do a dice roll to decide if we all get a 10% share of Boost's profit. If we roll a six, the profit is shared with everyone at Boost. Otherwise, the amount jackpots for the next month.
Love languages
We record each Booster's love language, the way each person likes to receive appreciation. These are either:
words of affirmation
quality time
gifts
touch
acts of service.
These differ from person to person. So understanding the ways in which people like to receive appreciation means we can do it the way that matters most.
Party time
We celebrate beginnings and endings, and anything that comes up in between. When new people join, we have a team lunch to welcome them aboard. When projects end, we have a party to celebrate the success. And we jump at any excuse to hang out and have a good time.
Agile expertise drives innovation
As a long-term Agile organisation, innovation is baked into our DNA. As a result, we try stuff and check if it's working. If it's not, we drop or improve it. If it is, we embed it in the way we work.
Because we value transparency and collaboration, we have multiple channels for getting feedback and new ideas.
We've already covered:
TinyPulse
R&D days
One-on-ones.
In addition we have:
developer retrospectives
all-of-Boost strategy days.
Developer retrospectives
Each month, Boost developers meet to look at what's working well and what can be improved.
All-of Boost strategy days
The whole company gets together each year to jointly develop our strategy for the year, and years, ahead.
Growing our impact
In the past year the Boost team has grown by more than 20%, with team turnover dropping to 8%.
To enable this growth, this year we've embedded Patrick Lencioni's Ideal Team Player model into our recruitment. Instead of focusing on competency and technical skills, we look for people who will complement the team we have. We look for those who share the traits that we see as being crucial in the business growing and thriving.
The results: revenue is up 48% on last year, and is more than double what it was five years ago. That's the power of an empowered team.
We also have a plan for the future. Called Boost 2026, this envisages a company with 10 million revenue and 50 employees. It envisages having a 50/50 male/female split, and male and female co-CEOs, elected by the team. And, crucially, it envisages a company that is wholly employee-owned.
We see this as the best way to maximise the positive and lasting impact that we can have as a team.
And we see it as the most effective way to make Boost the best place to work in New Zealand.
More on making Boost the best place to work in New Zealand
Watch Rebecca's award acceptance speech on Facebook
Boost wins WorldBlu certification
The National Business Review on Boost's lasting positive impact
NZBusiness investigates the power of Boost's purpose-led culture
How we're letting job applicants take us for a test-drive first